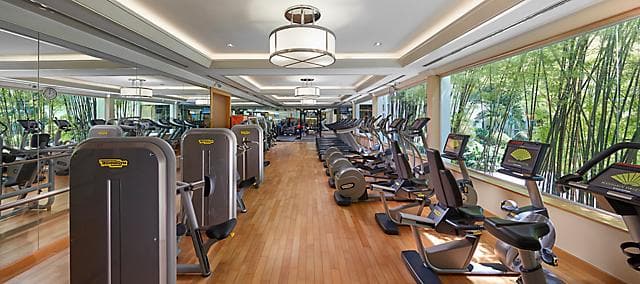 Bangkok
Ejercicio y bienestar
Ejercicio y bienestar
Manténgase en forma con nuestras piscinas, nuestro equipo de fitness de vanguardia, nuestras instalaciones deportivas y nuestras clases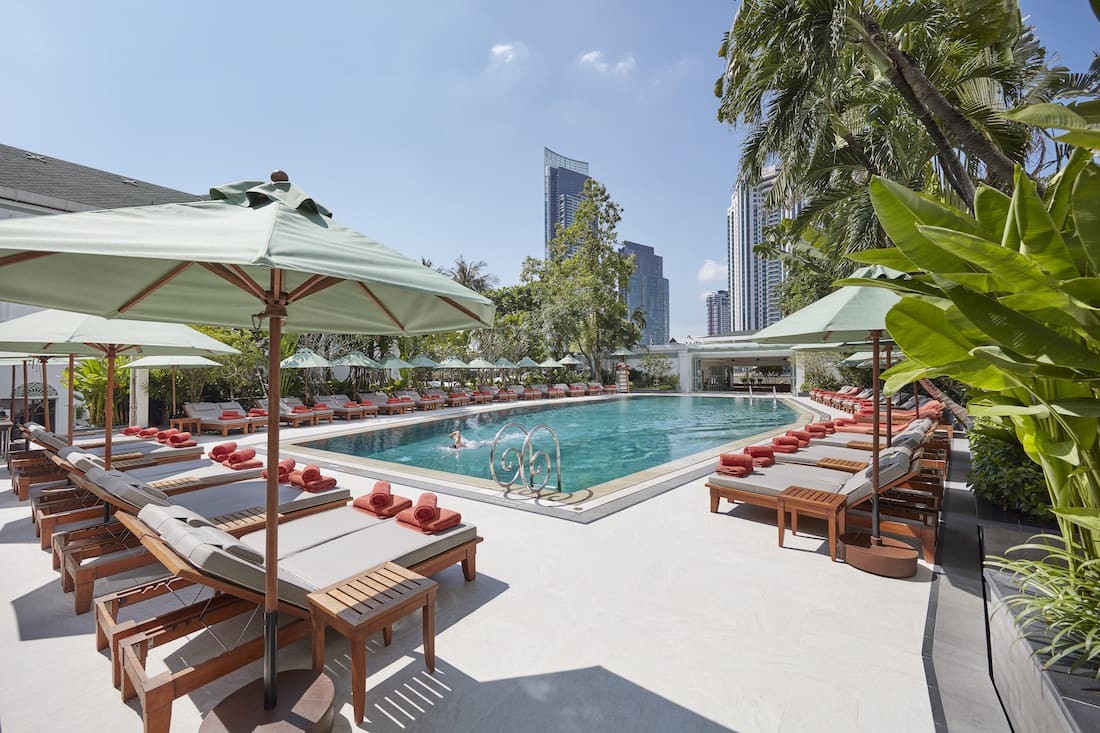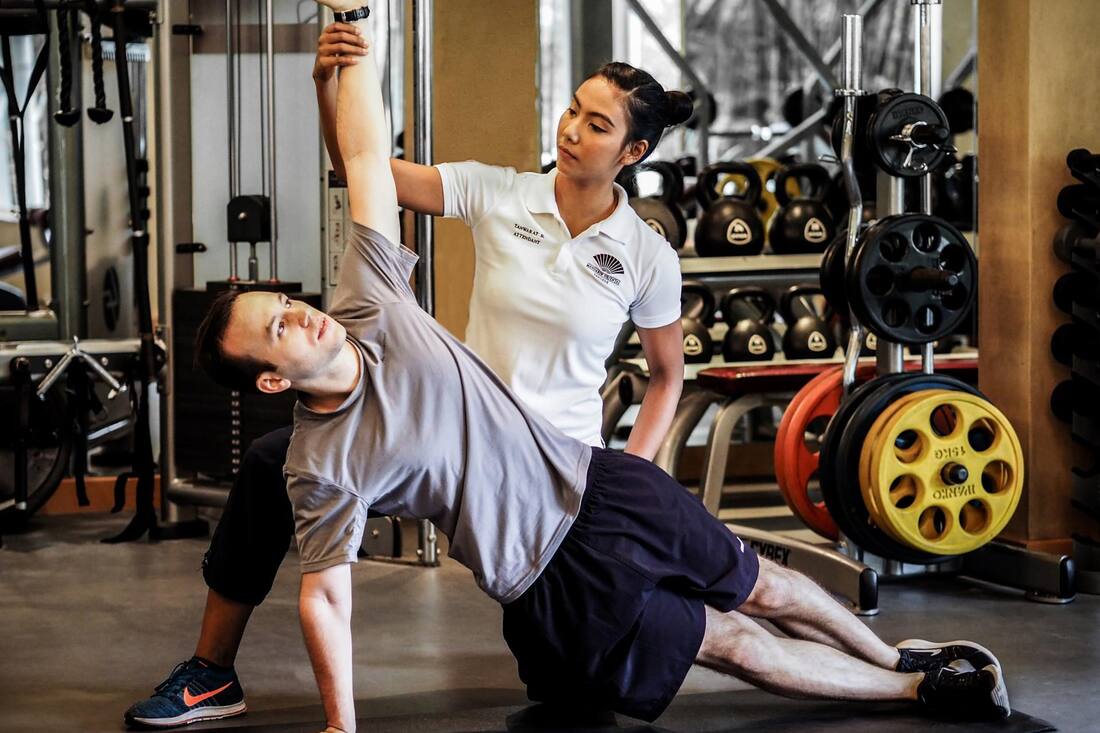 El gimnasio es el lugar perfecto para todo aquel que cuida de su salud y que aprecia poder contar con un servicio profesional y un enfoque altamente personalizado del entrenamiento. El centro está situado al otro lado del río, justo después de nuestro estanque de flores de loto.
Gimnasio
Nuestro gimnasio de vanguardia tiene todo lo que necesita para ejercitar el cuerpo con aparatos aeróbicos, instalaciones para entrenar con pesas, sauna, sala de vapor y jacuzzi. Ofrecemos, asimismo, sesiones privadas de entrenamiento.
Natación
Tenemos dos piscinas reservadas exclusivamente para la relajación y el disfrute de nuestros huéspedes, abiertas de las 6:00 a las 20:00. La piscina pequeña, con cabinas privadas alrededor, es ideal para baños relajantes, y una piscina de 25 metros sirve a quienes desean nadar un poco.
Clases gratuitas
Ofrecemos clases de entrenamiento gratuitas a nuestros huéspedes y socios. Elija entre "muay thai" (boxeo tailandés), yoga meditativo, entrenamiento HIIT de intervalos de alta intensidad, entrenamiento con pelota suiza y una amplia gama de sesiones de ejercicios y bienestar. También ofrecemos una amplia gama de actividades saludables exclusivamente para niños de entre 8 y 16 años, incluyendo ejercicio, yoga y muay thai para niños.
Programas de afiliación
Mandarin Oriental, Bangkok dispone de una serie limitada de paquetes de afiliación exclusivos.
Manténgase en forma con
clases especiales e instalaciones deportivas
In Sanskrit yoga means "union", the coming together of the mind, body and breath through various techniques encompassing Asanas (posture) for the healthy body, Pranayama (breathing exercises), Dhyana (meditation) and Yoga Nidra (yogic relaxation) for the deepest rest eventually leading us into a blissful state of being.
At Mandarin Oriental, Bangkok we are delighted to offer an extensive range of Yoga programmes, from lively group sessions to one-on-one private classes, tailored to meet your specific needs. Our private Yoga sessions are designed and conducted by Yoga Lifestyle Trainer Neelam Khatri; Neelam has extensive experience of teaching yoga and conducting workshops, retreats and programmes for individuals, groups and children. She has been actively associated with many projects of The Art of Living Foundation, including teaching Yoga at other highly acclaimed locations.
A national sport to Thailand, Muay Thai boxing is a form of exercise that is popular amongst Thais, expats and visitors to Thailand. Mandarin Oriental, Bangkok offers guests staying within the hotel complimentary daily Fitness and Wellness classes, including a one-hour Muay Thai training session for up to four guests. These sessions are held by Khun Rose, a Muay Thai champion who holds a record of 46 fights with 38 wins, every Saturday at 5:30pm and beginners are welcome.
Guests who wish to book a private Muay Thai class can also do so as Mandarin Oriental, Bangkok partners with a leading Muay Thai training studio. Prices start from THB 2,600 per hour for one person or THB 4,700 for two guests. Guests can also book packages of 5 and 10 hours. Prices exclude 10% service charge and 7% government tax.
Our cardio and strength training classes offer an ideal way to get your heart pumping and increase muscle tone. In our specially designed training rooms, our qualified fitness experts will lead you through dynamic and high energy classes of 30, 45 or 60 minutes duration.
Complimentary classes for our hotel guests and Fitness & Wellness Centre members are held daily and include high-intensity workouts such as HIIT, Tabata Training and a fun-filled 60-minute Zumba dance class to burn calories and have fun at the same time. Specially designed group classes targeting key muscle areas include the 30-minute Core Burn, Glutes Workout and Fit Ball Workout. For a gentler cardio workout Cardio Light or Stretching classes are also available.
Guests can enjoy two floodlit tennis courts between 6am – 10pm daily.
Should guests wish to have a tennis partner, they can arrange through the Fitness & Wellness Centre. Tennis rackets and balls can also be provided.
Tennis Court Rental – THB 700 per hour
Tennis Partner – THB 800 per hour
Prices exclude 10% service charge and 7% government tax.